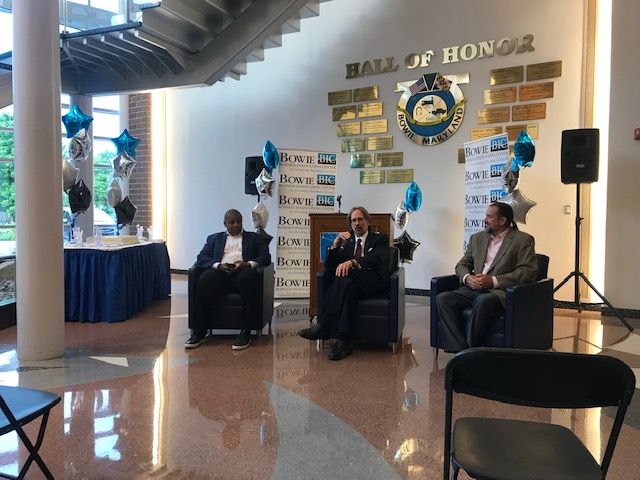 During the fireside chat, guest speakers Mark Lawrence (left), Greg Baroni (middle), and Mike Binko (right) discussed
the bright future of innovation in Bowie, specifically in the fields of sports and entertainment.
In early June, the beautiful lobby of Bowie City Hall was transformed into a festive space for InnovateBOWIE!—an event that celebrated the growing and dynamic entrepreneurial ecosystem in the City of Bowie and the 10th Anniversary of the Bowie Business Innovation Center (Bowie BIC) business accelerator.
This year, InnovateBOWIE! spotlighted sports, entertainment and innovation and featured Greg Baroni, CEO of Attain Partners and new owner of the Bowie Baysox as the keynote speaker. Other speakers included City of Bowie Mayor Tim Adams, Bowie State University President Aminta Breaux, CEO of TEDCO Maryland Troy LeMaile Stovall, Bowie BIC Board Member Mark Lawrence, and President/CEO of Startup Maryland Mike Binko.
Along with the celebrations and networking, InnovateBOWIE! attendees enjoyed an angel investor workshop, a 30-second entrepreneur elevator pitch competition, and learned more about Startup Maryland's SRT1UP Roadshow, which is a bus that travels throughout Maryland to highlight and video local entrepreneurs and give them an opportunity to promote their businesses and pitch to angel investors.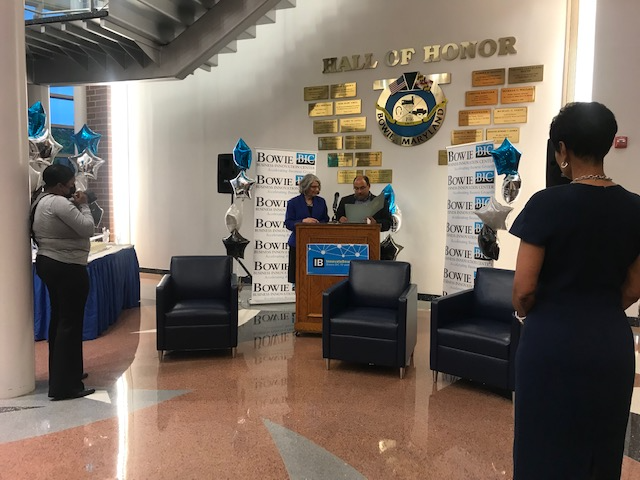 Another highlight of the evening was the celebration of the service and retirement of Bowie BIC Executive Director Lisa Smith. Todd Turner, District 4 Council Member, presented Lisa with a certificate of service as BSU President Dr. Aminta Breaux looks on.