At MWBC, we love to celebrate Maryland's entrepreneurial spirit and small business success stories. Many of the clients we serve are entrepreneurs of color. We are honored to connect them to training, counseling and funding resources that prepare them to create sustainable and scalable enterprises that build wealth, create jobs, and strengthen our communities.
During Black History Month, we're pleased to highlight some Black, women-owned businesses we've assisted on their entrepreneurial journey. These women have channeled their passion and talents into successful entities that are making a difference. Another success story we're proud to feature is Alodia Hair Care, founded by Dr. Isfahan Chambers-Harris.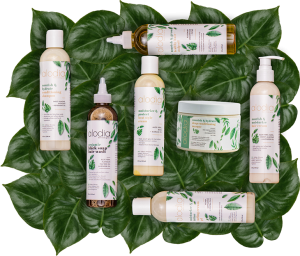 Alodia Hair Care
Dr. Isfahan Chambers-Harris was born to revolutionize the hair care industry. With a background in Bio-medical Sciences and a passion for healthy hair, she combined her skills and knowledge into the creation of Alodia Hair Care LLC, an innovative hair care line that is poised to take hair care to the next level.
Dr. Chambers-Harris started Alodia after battling with her own damaged, thin hair from years of using chemical straighteners. As a result, she turned to her biology and chemistry expertise, spending countless hours researching textured hair structure, properties, and best maintenance practices. She developed the Nourish & Grow Healthy Hair Scalp Oil, her first product. Inspired by her own hair transformation and her desire to help other women with their hair, she set forth to create a whole line. Over a three-year period of meticulously selecting ingredients for each of her products and making sure that all compositions were medically and nutritionally sound, she launched her product line Alodia Hair Care in 2017. From the start, it was extremely important to her for Alodia Hair Care to not only provide all natural high-quality products, but also to help dispel the stereotypes that surrounds textured hair.
When asked how MWBC has assisted her, Isfahan says that the experience of participating in the Maryland Women's Business Center's Business Plan Competition and pitch event helped her tremendously. It allowed her to see the strengths of her business but even more importantly the weaknesses so that she could work on them to create a better, stronger business. Isfahan says that "MWBC is a wonderful resource for women entrepreneurs. It provides mentorship and opportunities that all businesses need to thrive and be successful."

In fall of 2021, Isfahan worked with Angie Duncanson, Senior Business Consultant in Prince George's County, to apply for a new e-business grant from Prince George's County Economic Development Corporation made possible by funds from Maryland Department of Commerce as appropriated by the Relief Act of 2021. Designed to help Prince George's County-based personal services businesses establish or expand their online sales capabilities, Alodia Hair Care was awarded $5,000 to support its continued business growth.
Though Alodia is off the ground, Isfahan is just getting started. Passionate about philanthropy and humanitarian issues, she is working to align Alodia Hair Care with nonprofits centered on health and healing. She has collaborated with the Sisters Network for Breast Cancer Survivors (D.C. Chapter) and Mikey's Miracle Foundation, where she gave seminars on growing hair after chemotherapy. She is also interested in inspiring youth to explore Science, Technology, Engineering and Math (STEM) fields. She has partnered with Be Polished, a non-profit located in D.C. that empowers young women from single parent households, and continues to actively seek mentoring and partnership opportunities to discuss STEM and how it relates to the beauty industry.
Throughout the month, we'll continue to highlight a few more Black, women-owned businesses we've proudly assisted on their entrepreneurial journey. If you would like one-on-one business consultation to start or grow your business, contact a business consultant in the office located closest to you–Montgomery County, Frederick County, or Prince George's County.