To assist Maryland's businesses, MWBC has created this resource page that includes information and links to financial assistance during COVID-19. We will continue to update this page as more information becomes available, so check this page often and follow us on social media–Facebook, Twitter, LinkedIn, and Instagram.
If you have questions or need help, schedule a call with one of our business counselors. Call us at (301) 315-8091 to get connected.
Updated January 25, 2021
Protect yourself from phishing scams!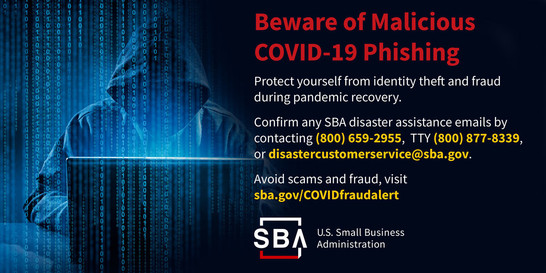 Loan applicants seeking federal aid in response to the COVID-19 pandemic through the SBA and its Office of Disaster should be aware that email phishing scams seeking applicants' personally identifiable information (PII) for fraudulent purposes have surfaced. Applicants to SBA's Economic Injury Disaster Loan Program should be particularly vigilant…any email communication from the SBA will come from email accounts ending in sba.gov, not a third party.
Economic Relief Programs
Job Opportunities
Note: Jobs listed in this section are not associated with Maryland Women's Business Center.
Additional Links
Currently Closed Economic Programs