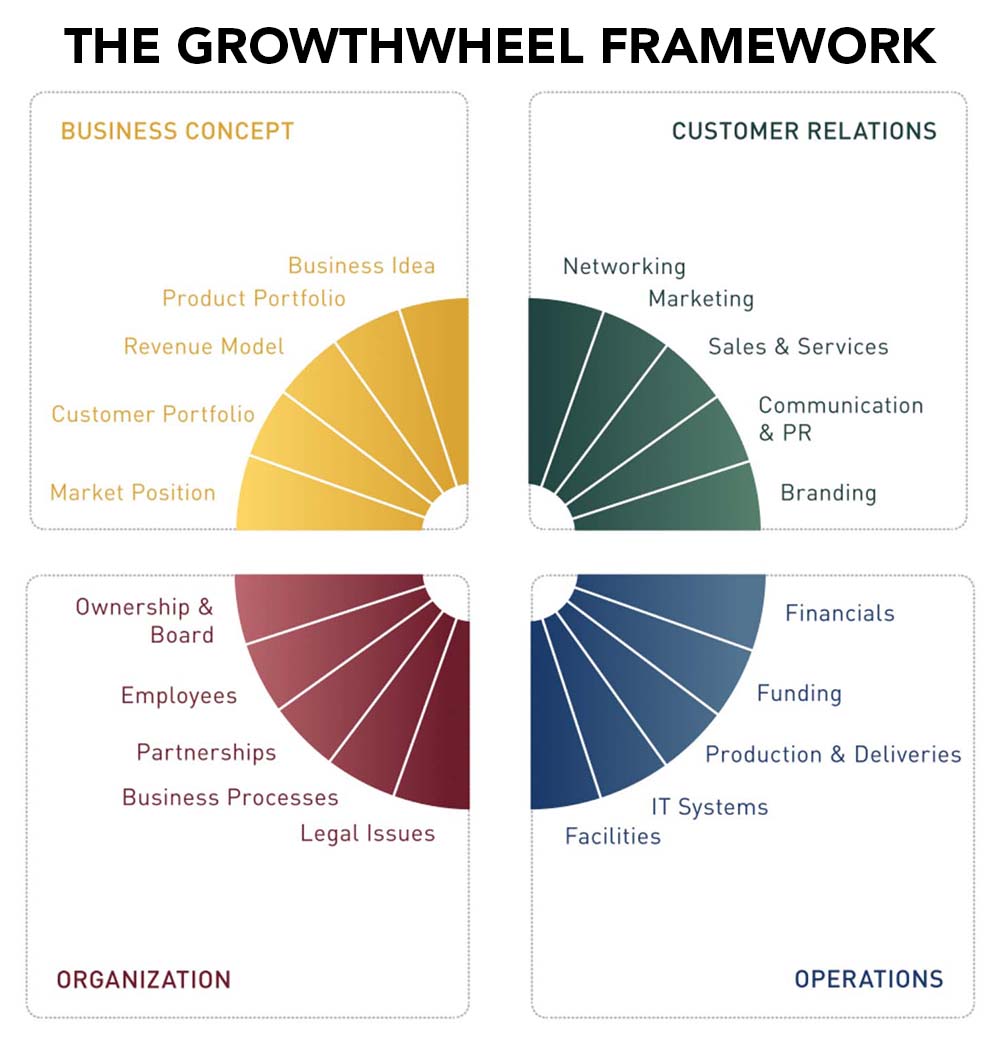 Did you know that each of the Maryland Women's Business Center (MWBC) Business Consultants is GrowthWheel certified? This month, we wanted to dive deeper into what that means and how it benefits the women- and minority-owned businesses that we serve. We interviewed our experienced consultants— Angie Duncanson, Nestor Gavidia, Martha Jimenez, and Karen Kalantzis—to learn more about how this tool improves the services and guidance they offer their clients.
Meet Our MWBC Business Consultants

What is the GrowthWheel Framework?
The GrowthWheel Framework is a method of advising small businesses that uses a checklist and visual tool to empower small business advisors to have more productive conversations with their clients. Advisors add their own expertise, which is tailored for the individual clients they work with to arm them with data to make decisions about growing their businesses. The GrowthWheel Frameworks provides the following benefits:
a 360º view of the business;
quickly identifies the most important Focus Areas;
defines decisions and actions business leaders should work on; and
helps avoid business blind spots.
Question 1: What did you enjoy most about the GrowthWheel certification process and what new concepts did you learn?
All of the Business Consultants relish the opportunity to gain new skills through continuous professional development. Each shared some specific takeaways that can help clients.
ANGIE: The GrowthWheel Framework offers 20 specific, in-depth business topics to focus on with my clients, which helps them identify and make needed business decisions. It also assists them with tools that help them take action on those decisions.
KAREN: The certification process helped us learn a different advising platform, and three different styles of advising—consulting, coaching, and facilitating—and when to use those styles.
MARTHA: The framework offers a very methodical approach to assist small business owners; one that covers every single aspect of their business. It offers four specific categories—Business Concept, Customer Relations, Operations, and Organization—each with five focus areas. It's very comprehensive.
NESTOR: The certification process was engaging and allowed us to interact with other counselors from different backgrounds. It was very fruitful to work with and learn from other people with different counseling styles.
Question 2: How will your GrowthWheel knowledge/certification help you better serve your clients?
KAREN: GrowthWheel gives me physical tools that I can share with my clients to help them through business challenges. I keep a binder full of worksheets that cover all 20 GrowthWheel areas, plus written articles for further clarification on business topics. After one of my clients completed some of the sheets, she appreciated how they captured all her thoughts in one place and made her take action. The advanced training workshop I recently completed taught me to ask more questions in the "coaching" role to help clients come up with answers on their own instead of me telling them what to do.
NESTOR: I believe the GrowthWheel Framework produces a detailed scope of each client's business health. The certification helps me ask better questions to gather more detailed information from the client. The main point is not giving advice, but revealing the client's needs and helping them find the solutions themselves.
ANGIE: I'm already feeling the positive effects of using the framework. I've created a webinar presentation applying the GrowthWheel method called "Growth Wheel 360° Business View," which has been offered twice so far and the attendees loved them. Whether in a training workshop or in a one-on-one counseling sessions, this program helps me serve women- and minority-owned businesses better and enables business owners get unstuck by identifying trouble areas and taking action.
Question 3: How does the "360º View on Advising Small Businesses" help clients grow their businesses?
All the MWBC Business Consultants agree that the 360° view provides clients with the tools needed to help them take a full view of their company. Clarity on the big business picture helps them zero in on the most critical issues and create an action plan to move the business forward. Specifically, the 360º tool helps clients get beyond their tunnel vision and gain new perspectives on their business. For example, most business owners tend to focus on the things they like, such as marketing or customer service, and forget about other places that need attention such as IT or Legal.
Question 4: Anything else you'd like to share about your experience or advantages of GrowthWheel for MWBC clients?
NESTOR: The platform and content look so professional. For a small business that wants to present its reports and documents with a logo and professional look, this is a great tool.
ANGIE: Adding this certification to our credentials brings further professionalism and confidence to our work and, in turn, instills more confidence in clients to work WITH us.
KAREN: I appreciate how MWBC is investing in us by giving us these tools that we can share with our clients to make them better entrepreneurs.
MARTHA: The GrowthWheel tool supports my clients in three key ways—it helps them be more focused, it helps them better understand their own businesses, and helps them make ideal decisions at the right time.
Learn how the GrowthWheel Framework can help your business. Schedule an appointment with one of our Business Consultants today.