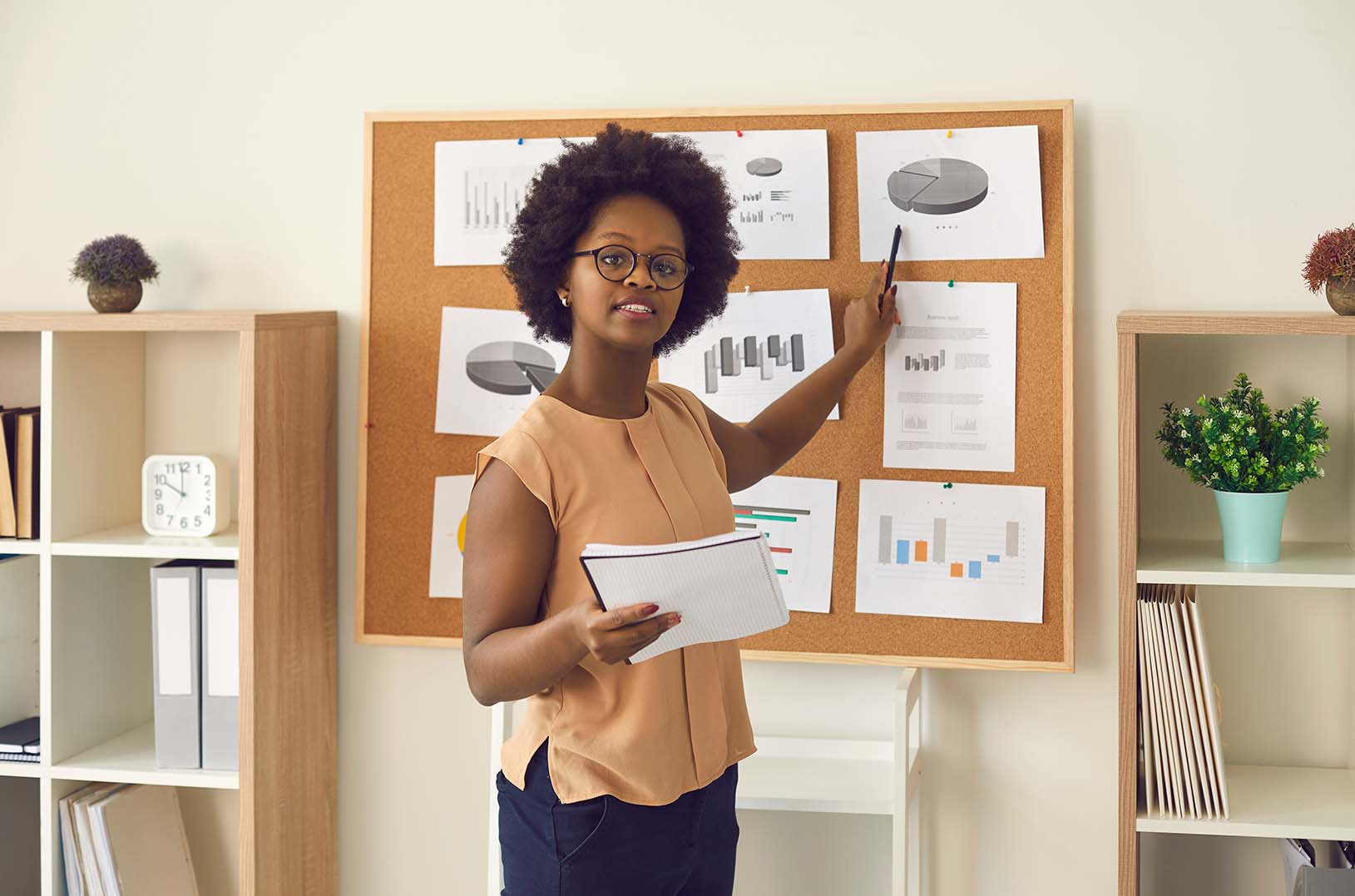 It's strange to be thinking about the end of the year in June. But if your business operates on a calendar year, we're almost at the midpoint. June is the perfect time to analyze and evaluate your 2022 progress, and make needed adjustments that promote growth so you can end the year strong. Read on for eight growth strategies you can implement.
What are Business Growth Strategies?
According to the Gartner® Finance Glossary, a growth strategy is "is an organization's plan for overcoming current and future challenges to realize its goals for expansion." Simply put, growth strategies are ideas and actions that help you achieve and exceed established business goals. Growth strategies are tailored for your specific business, so it's important to compare your business goals to the strategies you're considering to ensure they'll achieve the desired results.
NEED SMALL BUSINESS SUPPORT? CHECK OUT MWBC'S SMALL BUSINESS RESOURCES.
How Do You Measure Small Business Growth?
Financial Key Performance Indicators, or KPIs, are high-level, measurable values that show how favorably, or poorly, your business is doing when compared to its goals. Two types of KPIs—external (e.g., sales trends) and internal (e.g., employee turnover)—can be measured. Both types drive strategic decision making, so you'll want to track metrics that relate to and improve several aspects of your specific business performance. Some common KPIs include:
New Customer Inquiries
Number of Sales
Weekly, Monthly & Quarterly Sales
Leads in Prospect Pipeline
Number of Customer Service Calls
New Social Media Followers
Number of Downloads or Sign-ups (free resources, email, newsletter, etc.)
Organic Search Traffic
Paid Advertising Traffic
New Employees Hired
Production Costs
Profit (or Loss)
Eight Strategies to Promote Business Growth
Depending on your business type and business lifecycle stage, you may need to adjust the strategies to fit your needs. If you need additional guidance, make an appointment with an experienced business consultant in these locations:
Frederick County—Karen Kalantzis, Karen@MarylandWBC.org
City of Rockville—Nestor Gavidia, Nestor@MarylandWBC.org
Montgomery County—Martha Jimenez, Martha@MarylandWBC.org
Prince George's County—Angie Duncanson, Angie@MarylandWBC.org
1. Evaluate Refine Your Sales & Marketing Efforts. Pull tracking data to see which of your marketing efforts are most successful. Look at your entire plan to see what adjustments should be made. Ask yourself questions like:
What is the current conversion rate? How can it be increased?
Does our sales funnel nurture the customer relationship?
Does our lead generator or website need a refresh?
What does our website traffic look like?
Are there new social media channels that reach our target consumer?
Could video marketing help create more awareness?
Are we using all possible sales platforms and tactics to grow?
Should we invest in digital advertising to generate sales?
Are we inviting our customers to give us positive reviews? Is it easy to do?
Visit Verizon's Small Business Digital Ready online curriculum for free resources, including learning modules, expert coaching, and peer networking, to help your business thrive in a digital economy. You can also apply for a $10k grant before 06/30/22.
2. Fix Supply Chain Issues. Many businesses are suffering from stressors on their supply chain. If your business is affected by supply chain issues, it's important that you work collaboratively with your supplier(s) to proactively address potential delays and scarcities. Consider sourcing other suppliers to help with interim needs. And, if your supplier releases a new product, consider pivoting your offerings to include it and take advantage of their promotional efforts.
3. Assess Your Staff. The labor market remains tight, causing many businesses to experience a labor shortage. If you're having trouble staffing adequately, here are three tactics to use:
Employ more short-term help – exponential growth in the number of skilled contractors, freelancers, and gig workers can help reduce recruitment and hiring costs.
Re-examine and strengthen company culture – employees have redefined their job and workplace expectations. To retain employees, it's even important to offer flexibility, relevant benefits, and a company culture that reflects modern work principles. Be sure to revisit company or employee policies that might be outdated.
Revamp your recruiting tactics – attract the right people to help your company grow by seeking creative ways to recruit ideal candidates. Ask valued employees for referrals.
4. Evaluate your products and services. Review the production cost and sales performance for each product/service offered. Continue to market items that generate big sales and consider eliminating those that are unprofitable. Ask your customers about their needs and do market research to see what new products you could easily offer to increase sales.
5. Build Community with Existing Customers. It's so much easier to generate repeat sales from existing customers than to attract new ones. Plus, repeat customers tend to spend more. Invite your current and former customers to buy from your company again. Highlight similar and new products that align with their purchase history. Look for inexpensive ways to exceed their expectations, such as sending birthday and customer anniversary emails. Consider offering a referral incentive for customers that refer new businesses that buy within a specific timeframe. Reach out to your most loyal customers for feedback and ideas.
6. Consider Local, State & Federal Contracting Opportunities. Many opportunities exist for small businesses to compete for procurement projects. If you're new to government contracting, a good place to start is to download the SBA Federal Contracting Guide. MWBC also offers procurement training and promotes our partners' workshops and resources, so be sure to sign up for the MWBC monthly newsletter and follow us on Facebook, LinkedIn, Twitter, and Instagram for the latest training and opportunities available.
7. Reach New Markets through Strategic Partnerships and Affiliate Marketing. Partnerships and affiliate marketing tactics can connect you with new target audiences, which can lead to creative collaboration and sales growth. Be sure to seek out companies that reach your ideal customers, align with your brand, and have a positive reputation.
8. Explore Cost Reduction Measures. Trimming expenses is another effective way to increase profitability and create some extra cash to invest in growth strategies. Look at every aspect of your business to find ways to reduce or eliminate extra expenses. Consider all areas, including:
Automated systems for business processes that allow employees to focus on other growth areas like marketing, sales, customer service, and building customer relationships.
Time management practices that save time and money
Outsourcing certain aspects of your business, such as warehousing or shipping.
Downsizing your office or storefront
Going paperless and accepting electronic payments
Need More Assistance? Talk to a Business Consultant Today.
Every business is different. Depending on your specific business lifecycle stage, goals, target markets, and needs, you may benefit from individual counseling. Contact the MWBC business consultant in your area.
Frederick County—Karen Kalantzis, Karen@MarylandWBC.org
City of Rockville—Nestor Gavidia, Nestor@MarylandWBC.org
Montgomery County—Martha Jimenez, Martha@MarylandWBC.org
Prince George's County—Angie Duncanson, Angie@MarylandWBC.org