13 Businesses Reach Semifinals for Frederick County S.H.E. Pitch Competition
Original Article from The Frederick News-Post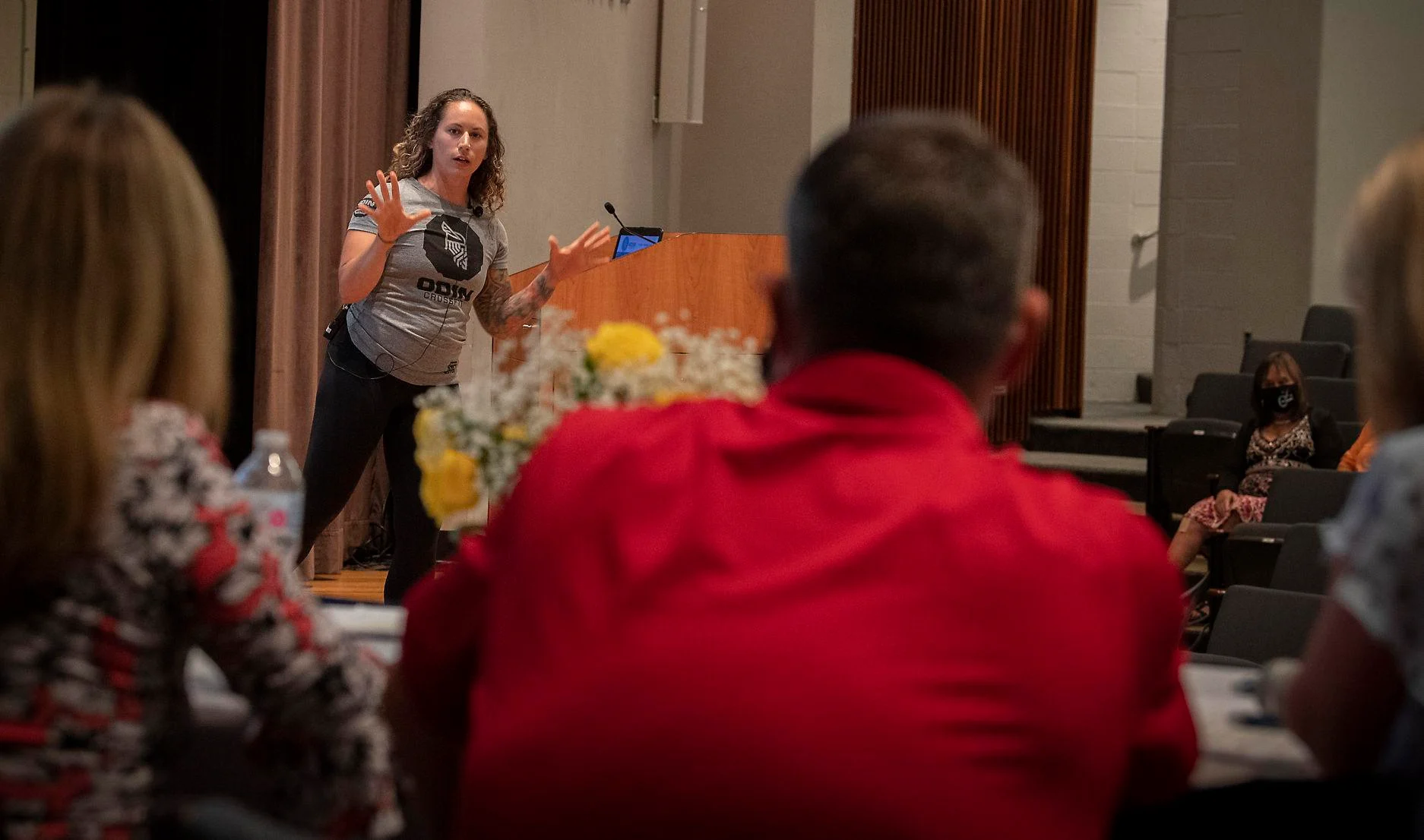 In this 2021 file photo, the Growth Stage winner, Allison Jachowski of ODIN CrossFit, makes her pitch to a panel of four judges at the S.H.E. Week pitch competition at Hood College. Jachowski was awarded a $5,000 prize. The Frederick News-Post staff file photo by Bill Green.
An upscale bartending service, a pop-up bakery, a natural wellness company, and an addiction treatment center are among the 13 businesses advancing in a "Shark Tank"-style pitch competition.
Now in its second year, S.H.E. (Strength, Heart and Equality) Pitch is organized by the Frederick County Chamber of Commerce to bring together female entrepreneurs.
The competition culminates in a live competition during S.H.E. Week in August, in which competitors pitch their business ideas to a panel of judges. Thousands of dollars in prizes are on the table, in addition to networking and educational opportunities, according to Jennifer Gerlock, the vice president of marketing and communication for the chamber and executive director of Leadership Frederick County.
She also sits on the seven-person committee that has been vetting applicants for this year's pitch competition.
"It's really about helping grow female entrepreneurs in Frederick County," Gerlock said Tuesday.
Sixty-two people registered for S.H.E. Pitch this year, which Gerlock said is a considerable jump from the previous year.
"We were impressed by the caliber of material," Gerlock said. "It was a very difficult evaluation process."
The committee that reviews applicants consists of volunteer community members who work in economic development, according to Gerlock. They include professionals from the economic development offices for the city of Frederick and Frederick County and from the Maryland Women's Business Center.
The committee examined investment summaries submitted by the applicants explaining their business, how it works, target customers, the market, the revenue model and more, Gerlock said. Applicants have access to a pitch creator tool that guides them through how to pitch their business and create a presentation.
This year, 13 businesses that stood out were selected as semifinalists. Next, semifinalists will polish their summaries and create slide decks to try to advance to the finals.
Businesses are separated into two groups in the competition: "idea stage" and "growth stage." Last year, three new businesses competed for the $4,500 "idea stage" prize. Three expanding businesses tried for the $5,000 "growth stage" prize. Gerlock said this year's cash prizes will be greater, but the final numbers are still being worked out as funders come forward. This year's semifinalists for S.H.E. Pitch are:
Idea Stage Businesses
BT Restoration & Healing Center
Karin Abma Consulting
Seek Care Solutions
SHIFT Work + Play
SpellRead Works
Wachter Wellness Co.
Growth Stage Businesses
Chaney Communication
Dream Free Art
JoNa's Exterior Design
Maryland Bakes
SL Studio
SweetsbyCaroline
Taste T's Creations
Finalists announced on July 18 will compete live during S.H.E. Week Aug. 24 at Hood College. S.H.E. Week will run August 22 to 26. For more information about the S.H.E. Pitch semifinalists, visit https://bit.ly/3OA15LL.