Earlier this fall, Prince George's County Economic Development Corporation accepted applications for a new e-business grant made possible by funds from Maryland Department of Commerce as appropriated by the Relief Act of 2021. The grants were designated to help Prince George's County-based personal services businesses increase foot traffic to brick and mortar establishments, make improvements to point of sale technology, and support cross channel functionality. In general, this grant program encouraged personal services businesses to utilize all forms of digital capabilities and technology to support and optimize its business processes, by establishing or expanding online sales capabilities.
Two MWBC clients working with Angie Duncanson, Senior Business Consultant in Prince George's County, were each recently awarded $5,000 e-business grants. We congratulate these women business owners on winning grants that will support their continued business growth and are extremely proud to have supported them on their journey. To inspire other women entrepreneurs, we've profiled their companies and their road to success. If you would like one-on-one business consultation to start or grow your business, contact a business consultant in the office located closest to you–Montgomery County, Frederick County, or Prince George's County.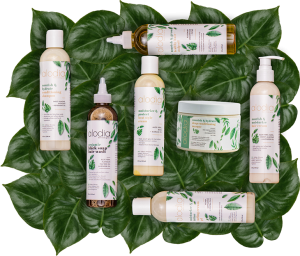 Alodia Hair Care
Dr. Isfahan Chambers-Harris was born to revolutionize the hair care industry. With a background in Bio-medical Sciences and a passion for healthy hair, she combined her skills and knowledge into the creation of Alodia Hair Care LLC, an innovative hair care line that is poised to take hair care to the next level.

Dr. Chambers-Harris started Alodia after battling with her own damaged, thin hair from years of using chemical straighteners. As a result, she turned to her biology and chemistry expertise, spending countless hours researching textured hair structure, properties, and best maintenance practices. She developed the Nourish & Grow Healthy Hair Scalp Oil, her first product. Inspired by her own hair transformation and her desire to help other women with their hair, she set forth to create a whole line. Over a three-year period of meticulously selecting ingredients for each of her products and making sure that all compositions were medically and nutritionally sound, she launched her product line Alodia Hair Care in 2017. From the start, it was extremely important to her for Alodia Hair Care to not only provide all natural high-quality products, but also to help dispel the stereotypes that surrounds textured hair.
When asked how MWBC has assisted her, Isfahan says that the experience of participating in the Maryland Women's Business Center's Business Plan Competition and pitch event helped her tremendously. It allowed her to see the strengths of her business but even more importantly the weaknesses so that she could work on them to create a better, stronger business. Isfahan says that "MWBC is a wonderful resource for women entrepreneurs. It provides mentorship and opportunities that all businesses need to thrive and be successful."
Though Alodia is off the ground, Isfahan is just getting started. Passionate about philanthropy and humanitarian issues, she is working to align Alodia Hair Care with nonprofits centered on health and healing. She has collaborated with the Sisters Network for Breast Cancer Survivors (D.C. Chapter) and Mikeys Miracle, where she gave seminars on growing hair after chemotherapy. She is also interested in inspiring youth to explore Science, Technology, Engineering and Math (STEM) fields. She has partnered with Be Polished, a non-profit located in D.C. that empowers young women from single parent households, and continues to actively seek mentoring and partnership opportunities to discuss STEM and how it relates to the beauty industry.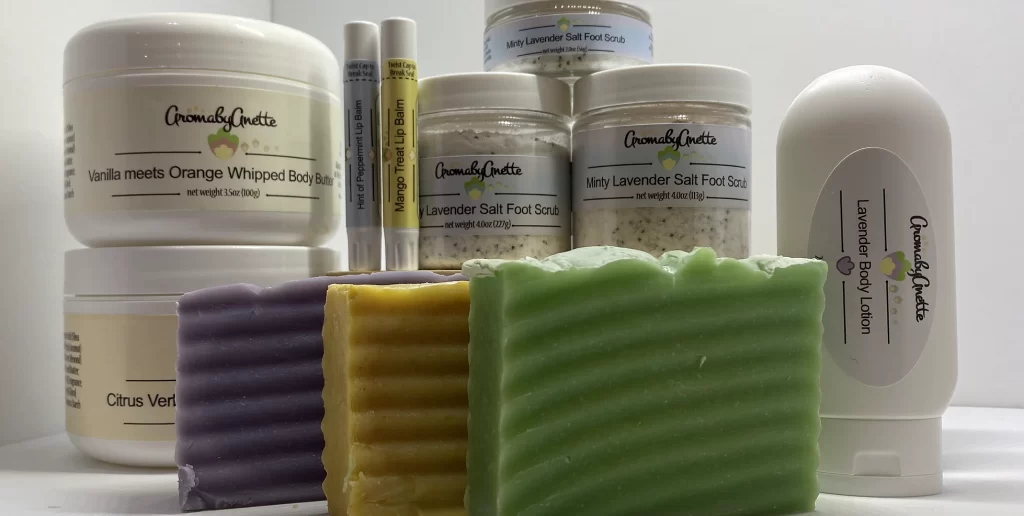 AROMAbyANETTE
AromabyAnette started in 2013 when Anette Casiano-Negroni created her first whipped body butters that were gifted to family and friends. Anette's business inspiration occurred because she was trying to figure out her own skincare—her skin stopped responding to the over-the-counter cosmetics she was using when she moved from Michigan to the DMV area. She officially registered in 2015 and her business began.
As a trained biochemist and someone who understood the ingredients in cosmetic formulations, Anette decided to put her training to work. She was further inspired by her students as she started to create and implement laboratory experiments that showed them how the chemistry they were learning is used in their daily lives. For example, some of the activities included a laboratory exercise about creating artisan soaps, an activity to understand how Vitamin E worked with trapping radicals and exploring different methods to test for chemicals in cosmetics. Anette was encouraged when she saw her students excited to verify the contents in the products they consume.
Anette remains committed to creating a great quality product that is accessible to all. Today, her line of products is made using mostly natural ingredients. AromabyAnette is a family affair—Anette counts on the support of her husband and children. Together, they've participated in different events including being one of the first participants in the Maryland Women Business Center (MWBC) Shop Local retail incubator in Rockville, MD. Participating in this incubator taught them more about business and strengthening the brand.
Today Anette's business is moving in the right direction, and it is slowly recovering from the negative economic effects of the COVID-19 pandemic. AromabyAnette is a constant vendor at the University of District of Columbia Farmer's Market from May to November and has an online presence as well. Presently, Anette is working to enhance the online presence by redesigning/updating the AromabyAnette website and planning a comprehensive social media strategy and digital marketing efforts.