¡A partir del 1 de diciembre de 2022, el programa Small Business Digital Ready de Verizon ahora ofrece clases y sesiones de capacitación exclusivamente en español!
Además de los recursos gratuitos, las pequeñas empresas calificadas con un 51 % de propiedad de hispanos pueden solicitar una oportunidad de subvención de $10,000. Para calificar para la subvención, los solicitantes deben completar dos cursos o eventos de capacitación en el sitio Small Business Digital Ready entre el 1 de julio de 2022 y el 13 de enero de 2023. La solicitud de subvención vence el 13 de enero. Todos los solicitantes serán notificados si han sido seleccionados para la financiación de la subvención la semana del 30 de enero de 2023.
Haga clic aquí para registrarse/iniciar sesión para activar español gratis recursos de idiomas para pequeñas empresas.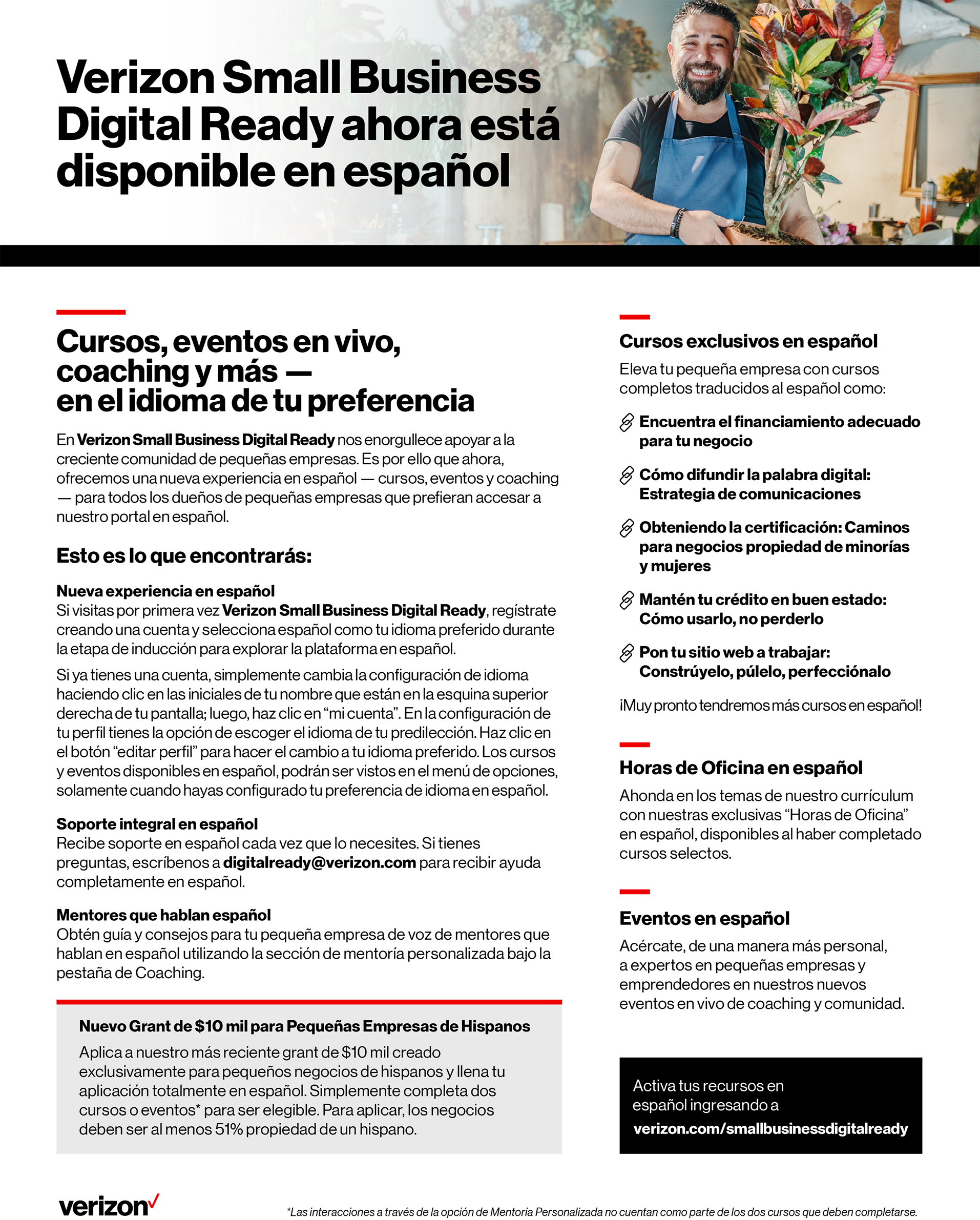 English Translation:
As of December 1, 2022, Verizon's Small Business Digital Ready program now offers classes and coaching sessions exclusively in Spanish! In addition to the free resources, qualified 51% Hispanic-owned small businesses can apply for a $10,000 grant opportunity. In order to qualify for the grant, applicants must complete two courses or coaching events on the Small Business Digital Ready site between July 1, 2022 and January 13, 2023. The grant application is due on January 13th. All applicants will be notified if they have been selected for grant funding the week of January 30, 2023.
Click here to register/sign in to activate free Spanish language small business resources.